Box Making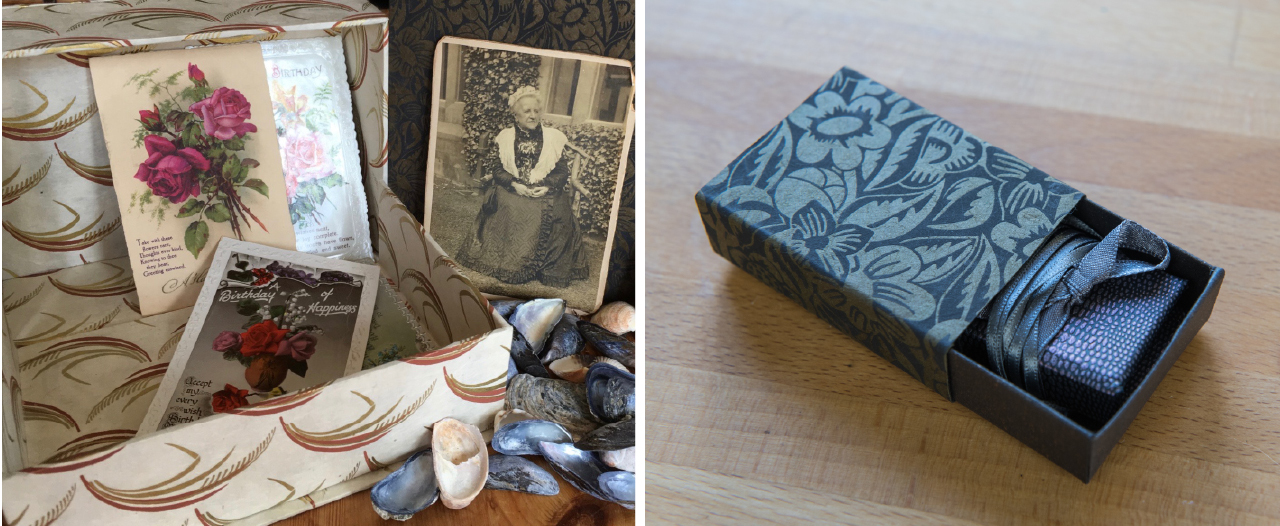 I have a furtive secret…actually I probably have quite a few and this is probably the only one I am prepared to catapult out into the interweb highway. I have a bit of a thing for boxes. There, I have said it. I love boxes, compartments and my particular favourites - a nook and cranny.
There is so much potential with a box, it can hold a space, it can contain, hide and protect and my heart quickens at the thought of the secrets a box can hold.
My love of boxes manifests itself in many ways, from a love of dollhouses, which, I see as a collection of boxes, each one able to display a secret moment of domesticity caught in a room…a box, a house. Think of Pandora's box, a jack in the box, a child will often disregard the carefully chosen gift to play with a box…ok, well I did. A box has possibilities. When making a book I sometimes feel it needs a home, a box to nestle in, for safety, comfort and protection. I don't always make them as it isn't always necessary, but sometimes it seems like a perfect partner.
Box making is fairly simple in that it follows a very specific set of instructions…, assuming that any measurements are taken when fully concentrating and definitely not after a medicinal nip of Laphroaig at bedtime. This happened only once, however it did cause quite a lot of muttering and hand flapping several days later when it was discovered that the book didn't fit in the box.
I generally make my boxes out of 3mm grey board and use either an acid free bonding glue or tape depending on the size and requirements of strength. Generally they are covered in a hard wearing buckram cloth but they can be covered in decorative papers if desired. Box making is time consuming and is actually really interesting to make and I do think it can really add something quite special to a book if it is given as a gift.
All board I use is hand cut and each method or type of box has been learned by a long process of trial and error. Each box is made specifically for whatever book or object it is going to hold.
Some previous commissions have included slip cases, clam shell boxes, memory boxes and various bespoke requests. As a taster here are some examples.
Tardis Box
I will talk about this commission in more detail in another piece but I will mention it here briefly because of the box component. The box for this was made as part of a commission for a wedding guest book with the theme of the Tardis. Originally the request was for a book but to include all of the inserts and letters that would be written meant it would be difficult to realise this in book form only. Of course it is also nicer to have a box for something a bit special too. I am really proud of this particular box as it was a real adventure working out the best and strongest way of making it and then seeing it finally made was really satisfying.
Small boxes
My other predilection other than boxes are miniatures and all things on the tiny side of life. So you can imagine my excitement when I decided to make boxes on a smaller scale to put my tiny books and collections of precious things in.
Memory box for photos
Perhaps some of the most satisfying boxes I have made have been when it is part of a brief to make a box as part of a memorial gift or a box to put a memory album in. One of the things I really love about making things is when it means something quite special for the recipient.