Lino Cutting Print Books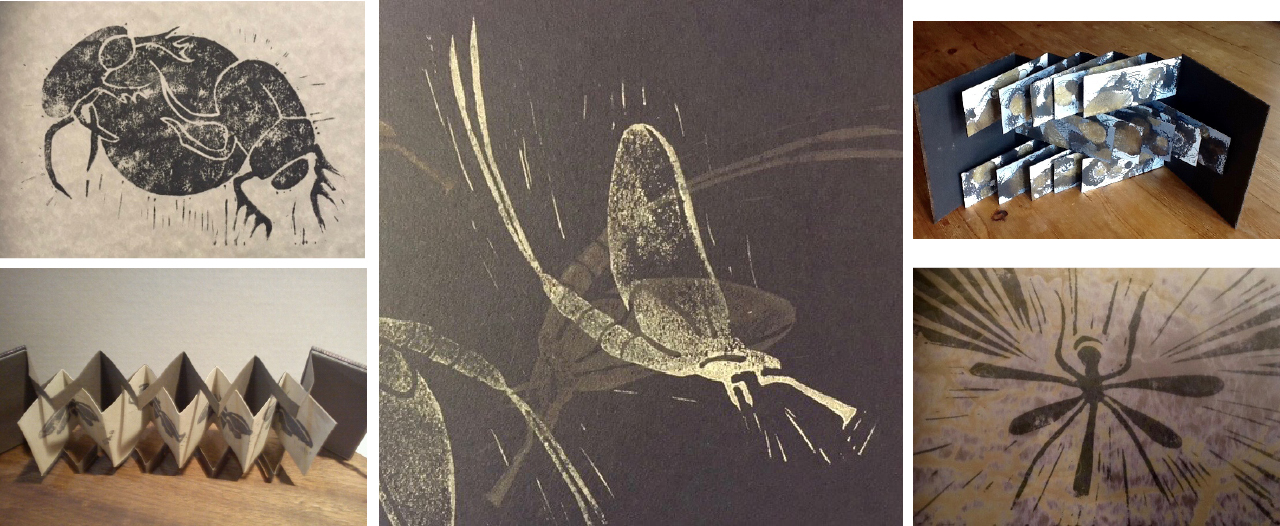 I make an awful lot of books with blank interiors, ready for others to fill. I also make my own artwork into books too. One such project was when I created a set of Lino Cut Insects to accompany a peculiar set of stories I had written.
(Please note: These are not actually insects that lino cut. They are in training, however as yet they have not quite reached that level of manual dexterity needed with using the cutting tools. They do of course have the nimbleness required but as yet do not quite have the strength to get true purchase of the tools.)
It was a burgeoning love of fleas that turned my head towards the world of insects. The flea fest will be discussed at another time, in great detail I will warn you. Here however I will traverse the heady heights of lino cutting and printing insects. The stories I had written involved the adventures of Harold the butterfly (the armpit thief) and Humphrey the Bumflea (yes, I know, but in my defence he really is a beguiling little scamp) and finally the Dung beetle eye ball rollers.
I do not really have a writing practise as such. Normally a word, phrase or image pops into my mind and gradually things go downhill from there. In this instance, I imagined two dung beetles labouriously rolling a large eye ball up a hill and the prints came from there.
It was really good however to produce a small series of books from start to finish.